JOBMATCHER M
Organise your entire recruitment process in one configurable system
With our configurable system platform JOBMATCHER M, you can map your entire candidate management system and also efficiently manage large numbers of applicants and various job advertisements. In order to customise the software to suit your requirements and processes, we first conduct a requirement analysis with your company. On this basis we define the individual process steps, the necessary tests and assessments and the technical features for your recruiting and we will set up the system and the projects individually for you. With JOBMATCHER M you can manage and control the entire recruiting process – thanks to an easy-to-use system that centralises and simplifies your tasks, and quickly guides you to the right personnel decisions.
---
1. YOUR CANDIDATE'S ONLINE APPLICATIONS
After you have published your job advertisements online via a job board linked to your website, the process begins for your applicants: all candidates can apply online for a position.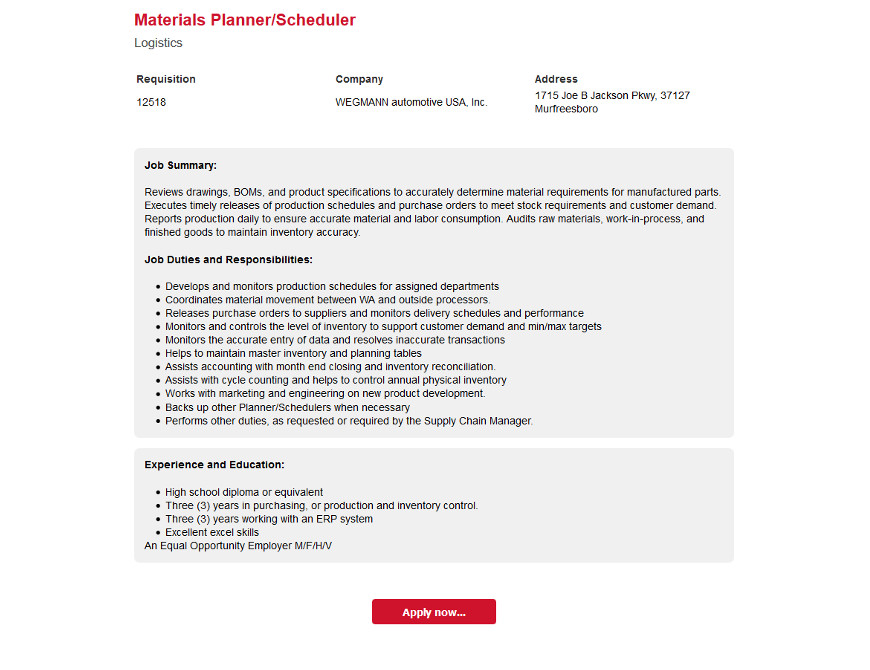 Of your offered vacancies on your candidate portal, interested candidates choose the one, that they wish to register and apply for.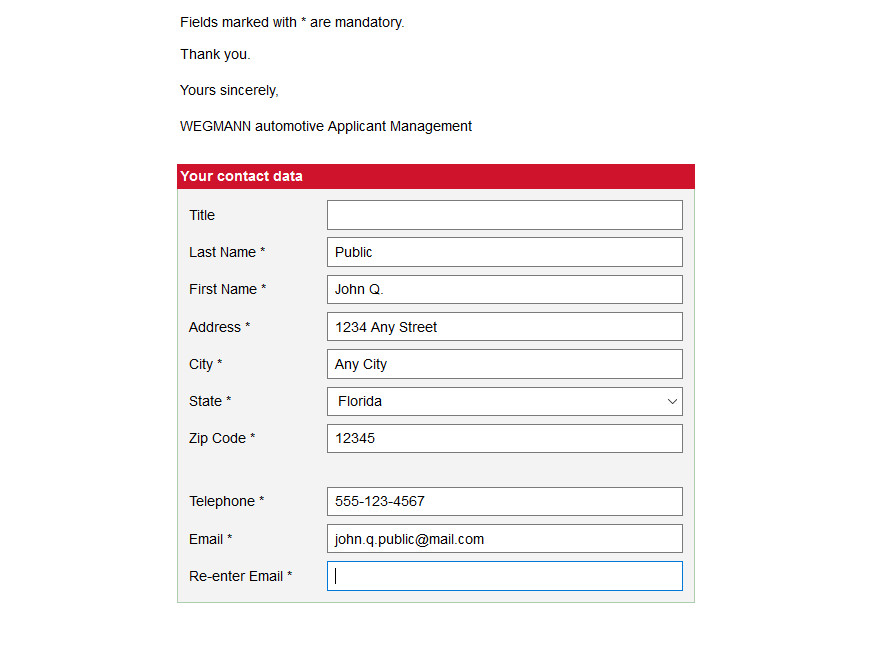 Registration: Candidates fill in the registration form with their personal data (for an exact and correct identification later on) and agree to the terms of use.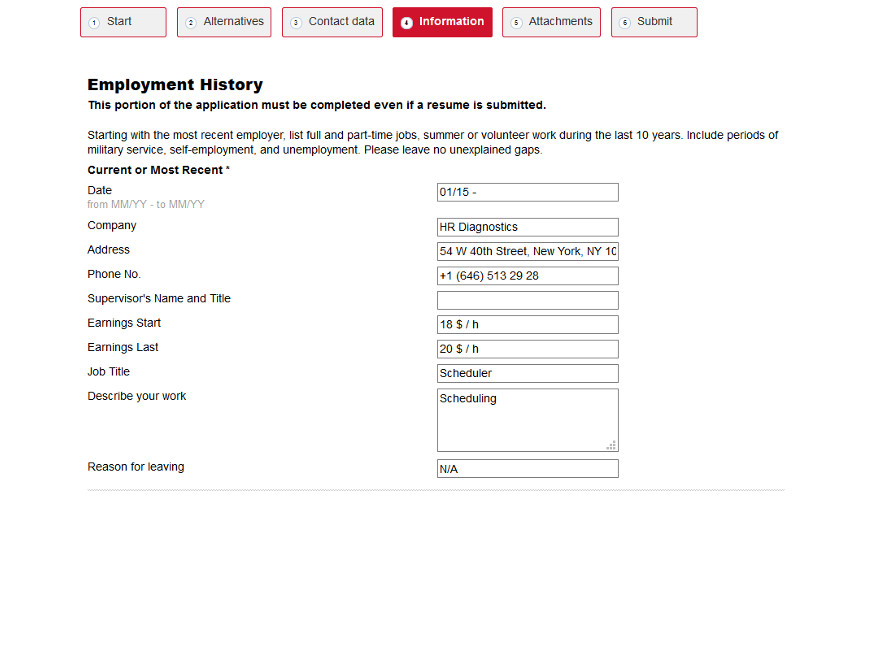 Completing the biographical employee form: In a next step every candidate receives a link for his or her biographical employee form containing questions regarding the educational minimum requirements that have been defined by you for the specific position. JOBMATCHER M automatically analyses the answers.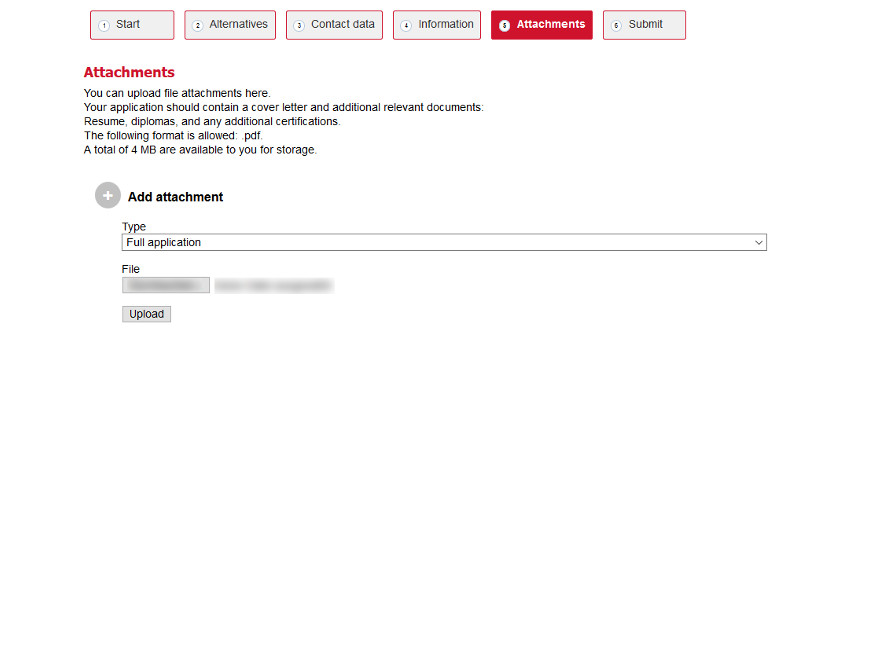 Completing the application: Depending on your requirements, the candidates need to upload documents such as a CV, certificate or a cover letter to complete the application and ultimately send it - and it requires just a few, easy clicks.
2. MANAGING INDIVIDUAL PROCESSES
Once a candidate has submitted their application, you are able to see them on your JOBMATCHER. This is where your own recruiting process starts in the system – with defined in stages a pipeline showing you the process status at all times. Here you can manage all your candidates and as a final step select the ideal candidates for your vacancies.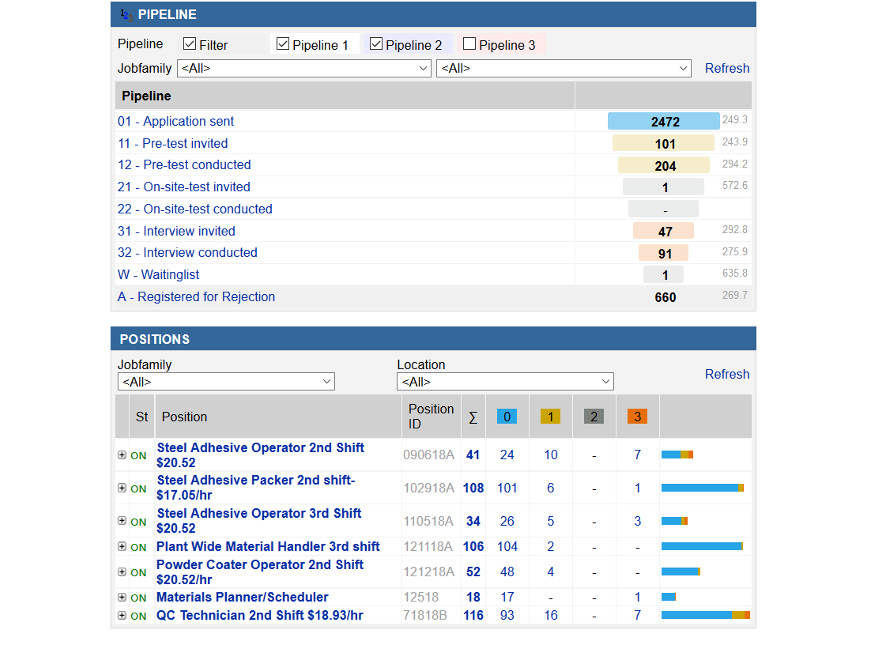 Your entire recruitment process in a pipeline: With your configurable process pipeline you'll get an immediate overview of how many candidates are on which level of the process. The given example shows that 73 candidates are invited for the pretest. Since every level is linked - every candidate is just as far as a single click.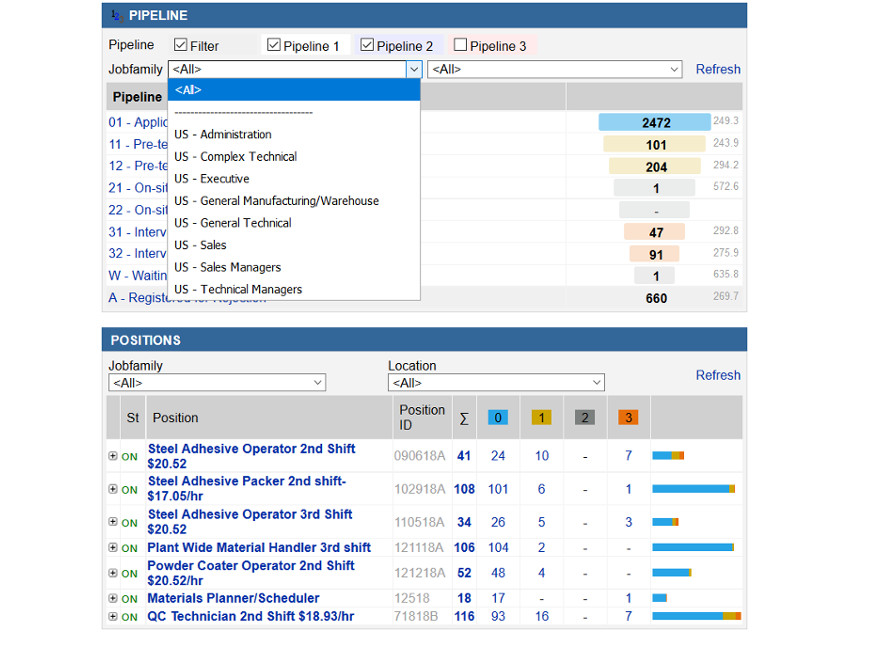 Multiple projects in one system: With JOBMATCHER M you're able to depict the recruitment process for multiple positions at once and you're able to compare them: For each vacancy you're simply creating a new project - though the process remains the same.
3. VIEWING AND MANAGING YOUR CANDIDATES
In JOBMATCHER M you can see the test results of all candidates in total and at a detailed level. After just a few clicks you are already driving your process forward and moving candidates on to the next stage: to the pre-test, to an on-site test or to other assessments that we have defined for your recruiting process. You always have an overview of all the activities of each applicant and you can also easily include other members of your organisation into the decision-making process if necessary.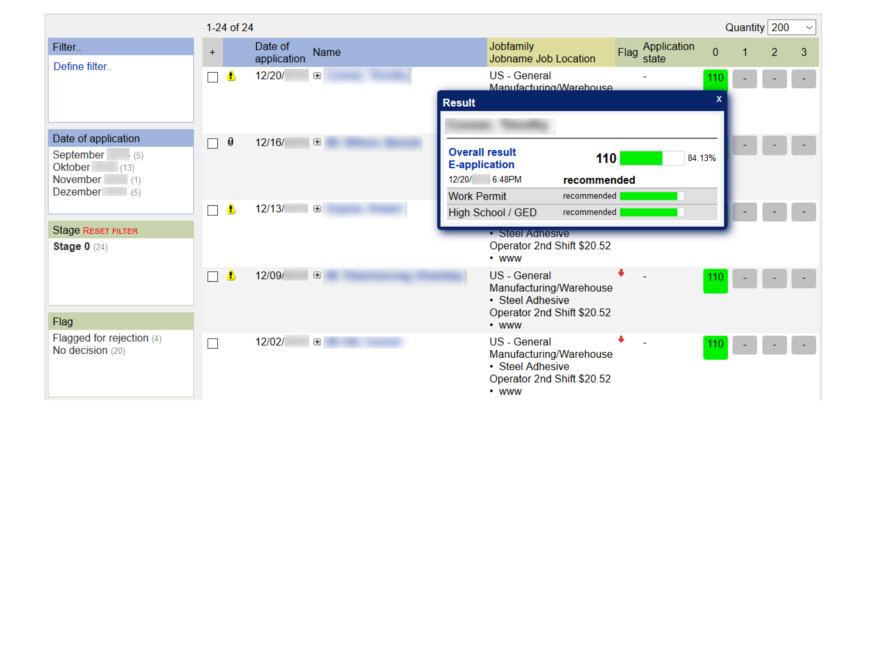 The candidate overview on an overall level: Displaying the candidate overview, you'll see a list of all candidates, who are at the same process level. With a specified search you are able to filter the list regarding multiple criteria - for example, if you wish to see only candidates with a certain location. In addition to that, you're seeing the results of each candidate per process level and with the colour coding in analogy to traffic lights. If for example the candidate is at the very beginning of the application process, you'll see at a glance whether the minimum requirements are fulfilled or not. If so, you can proceed by transferring the candidate to the next level and send an invitation for the pretest - with a single click.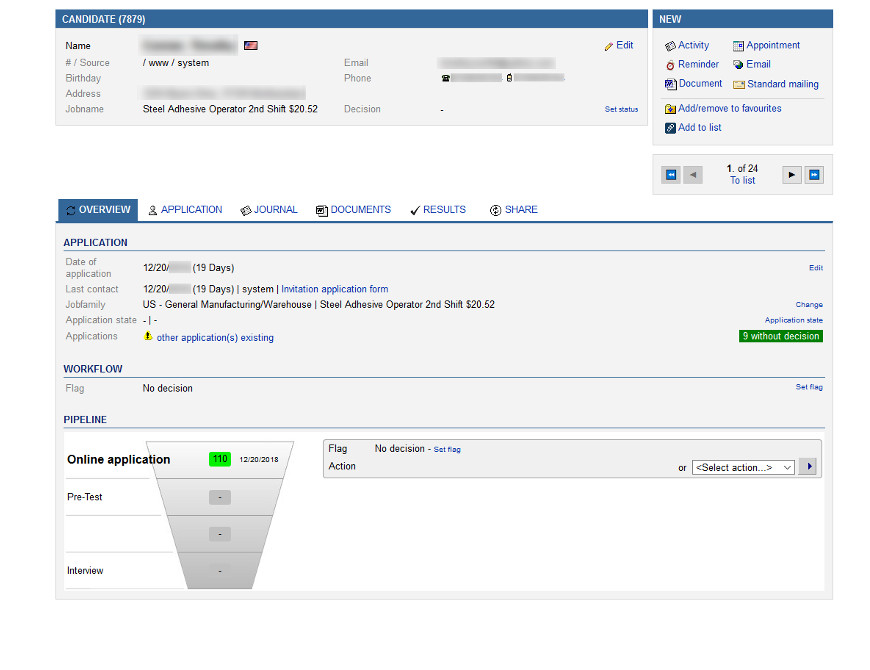 The canddiate overview on an individual level: Additionally to the summarised view of all candidates you can have a detailed look on each and every candidate. You'll see the result at the respective process level: The given example shows that the candidate fulfills the biographical minimum requirements and achieved a satisfying result at the pretest conducted at home; both results are colour coded with green. Here you can decide as well, to transfer the candidate to the next process level - e.g. by inviting him or her to an on-site test.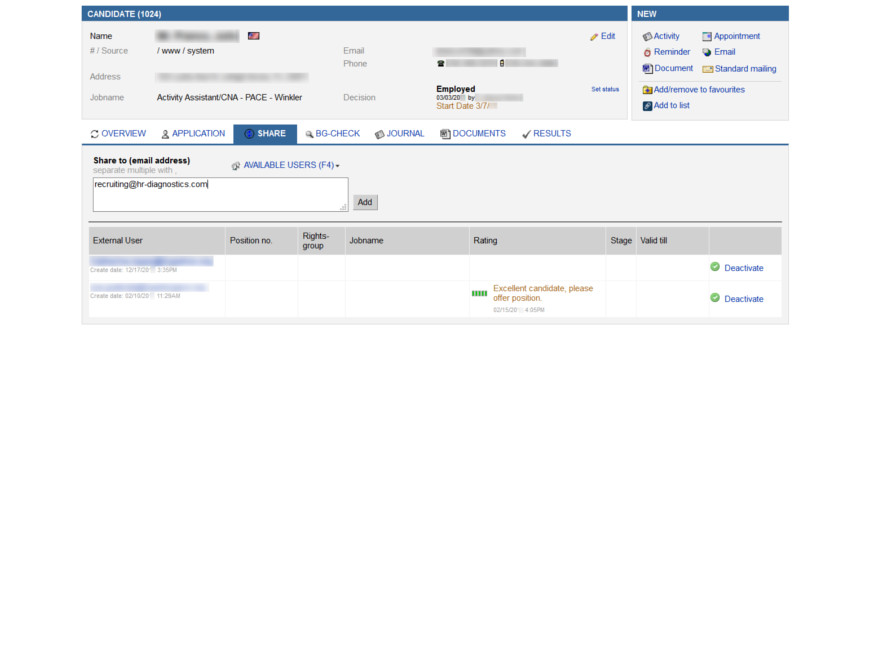 Integrating externals into your recruitment process: The recruiter portal that is connected with the JOBMATCHER allows you to integrate other departments or parties into the recruitment process as well, such as the work council or specialised divisions. This is especially useful if the decision hasn't been yet taken of whether or not a candidate should be invited. The externals have access to selected candidate profiles and are able to give recommendations for further action - still you yourself are controlling the on-going process.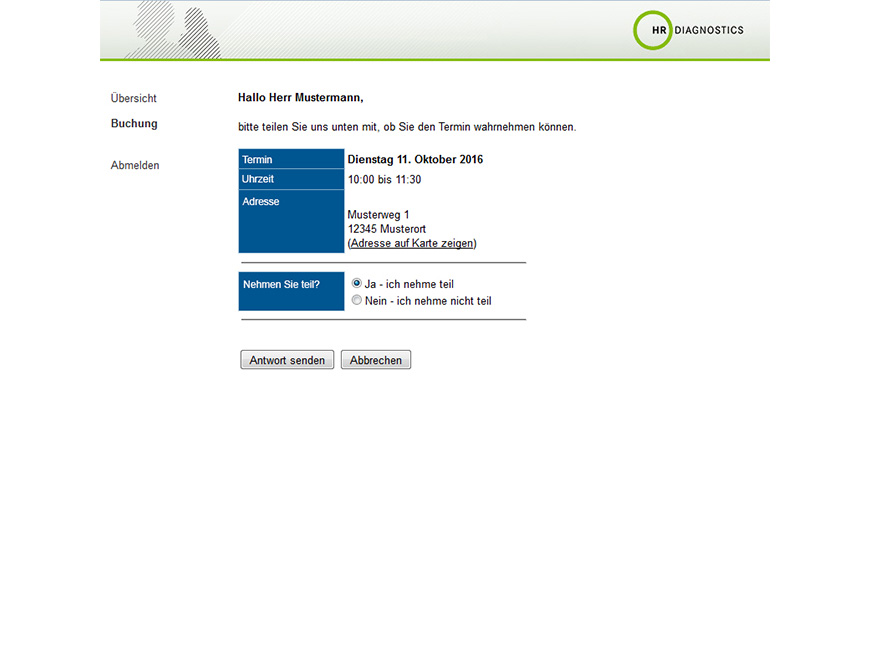 Invitation management and scheduling: Once you decided to get to know a candidate at your site, you can invite him or her via e-mail with one click. The module INVITE enables candidates to book or cancel an on-site test or interview via the provided link - depending on the configuration, the candidates can choose between different appointed times. JOBMATCHER transfers all replies to the calendar and takes them for any further planning into account.
JOBMATCHER M ENSURES THAT YOUR MULTI-STAGE RECRUITING PROCESS REMAINS TRANSPARENT AND EFFICIENT AND ULTIMATELY ENABLES YOU TO MAKE THE RIGHT PERSONNEL DECISIONS
---
Features for JOBMATCHER M