JOBMATCHER S
Manage your online assessments easily on one system platform
With our flexible test platform JOBMATCHER S, you can start online recruitment and testing without any prior knowledge: Choose the appropriate assessment for your vacancy / vacancies and invite candidates to take part in the selection process. JOBMATCHER evaluates the results for you and provides you with all the information you need to make informed decisions. In JOBMATCHER S you can manage your candidates transparently and in individual projects; for example for appointments from one's own staff or external candidates. The ideal test always provides an objective basis for the comparison of all participants.
---
1. SETTING UP A PROJECT AND INVITING CANDIDATES
The first step is to select the appropriate test method for your recruiting process, initiate it in a project and invite participants to take part in an online test.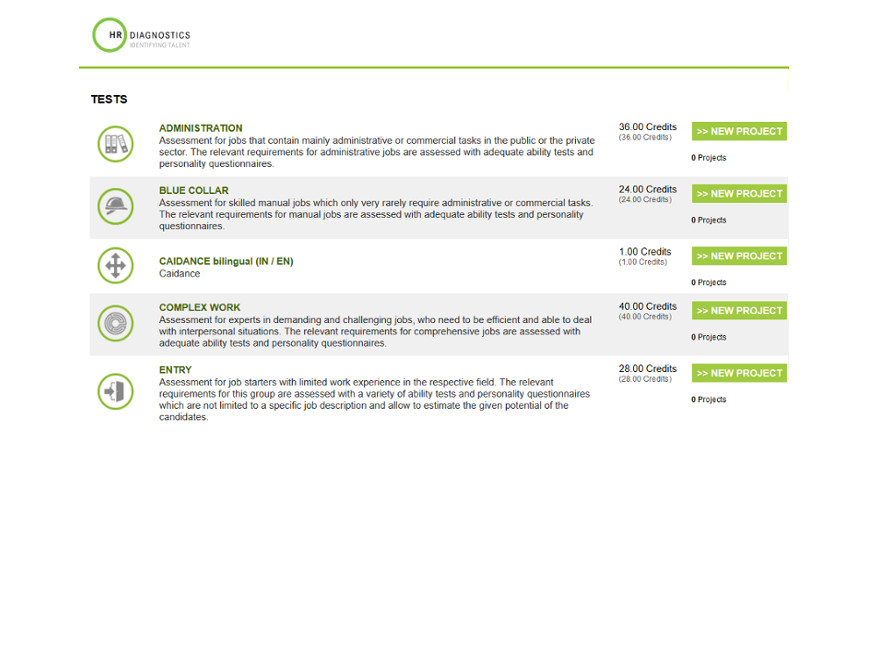 Choose a test procedure: First you're choosing either one of our standard assessments or a specificly for you configured test procedure and consecutively generate a new project. For example: If you would like to recruit new staff in distribution, you would choose our pre-configured test battery SALES and name the new project as you like. If open positions need to be filled for different sites, for each site a new project will be generated.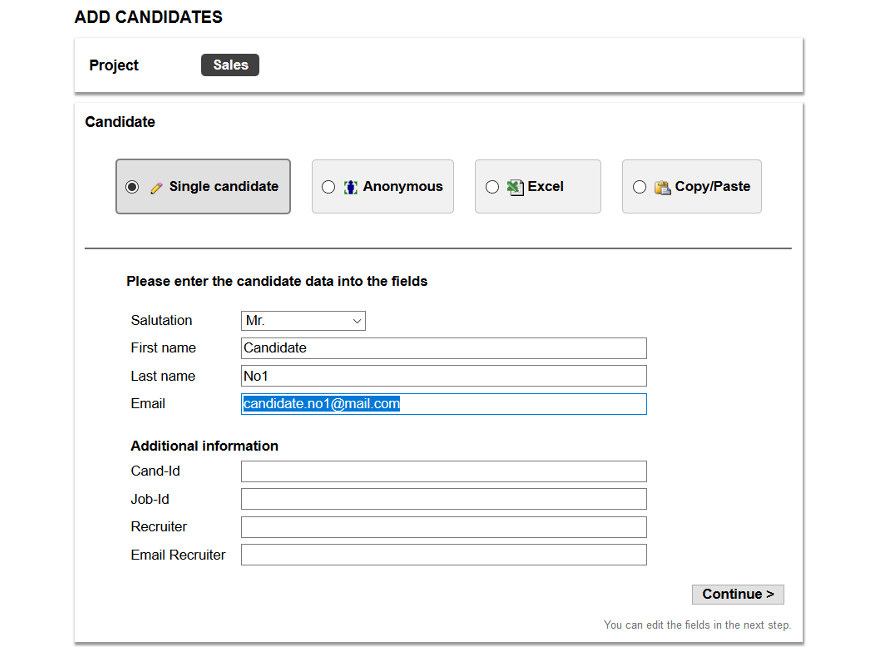 Adding candidates: As soon as the new project is set up, you are able to add as many candidates as you want. Either you're adding each candidate seperately or you're importing the data with an Excel-sheet or conduct the import via drag & drop into the system.
Optionally you can enable your candidates to register on your website - the data will be automatically imported to JOBMATCHER. You are also able to store anonymous test participants within the system.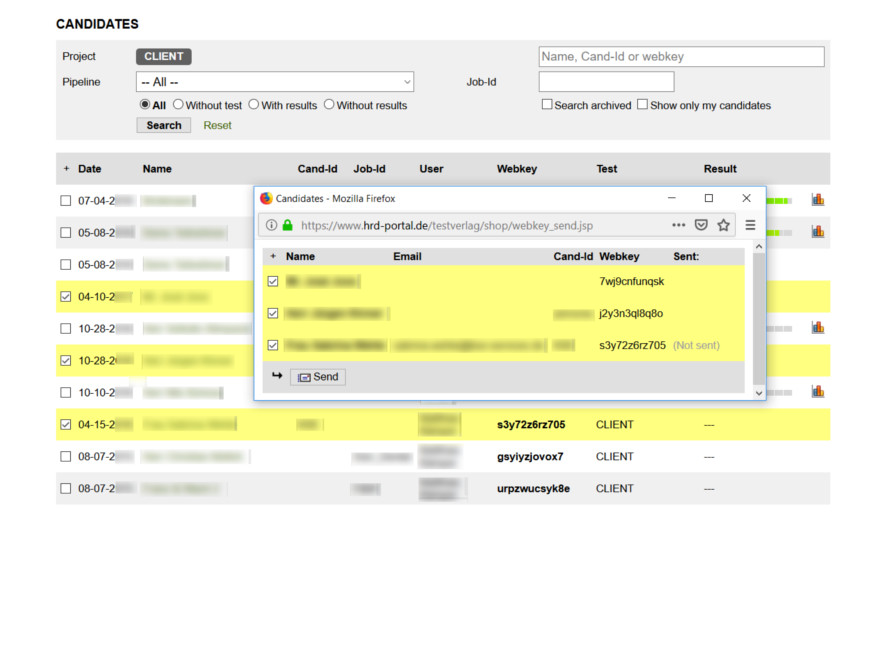 Inviting candidates: With a single click you're inviting your candidates for a test - they'll receive automatically an e-mail with their access codes and are able to start the test immediately.
2. PERFORMING THE ONLINE TEST
Your candidates simply log in with their provided credentials and take part in the test, enjoying the comfort of their own homes. All the test results are then forwarded to your system. If you wish, JOBMATCHER S will notify you by email of every new test result on the platform.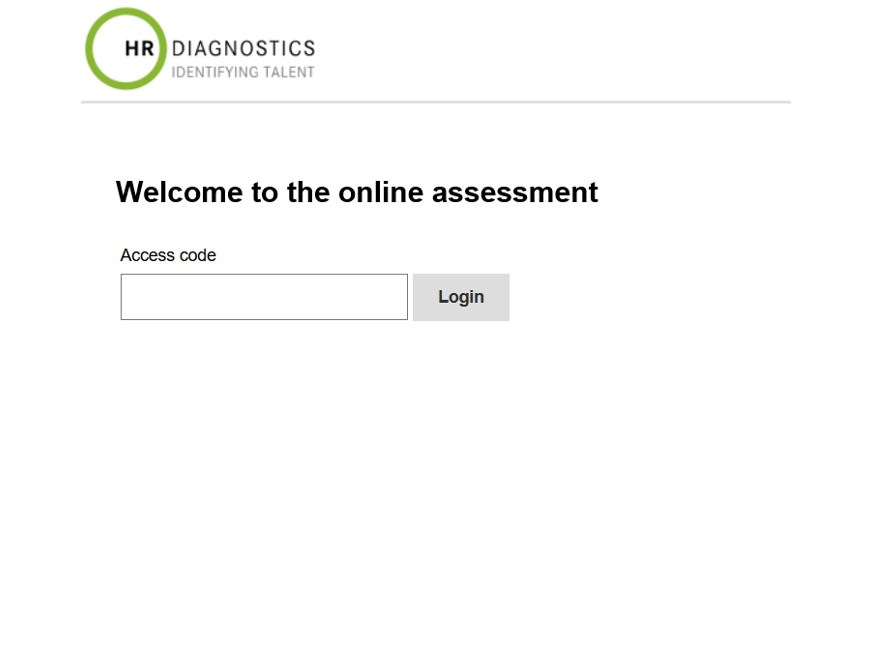 Candidate login: The e-mail contains the link to the login-webpage of the online assessment, where your candidate enters the access codes.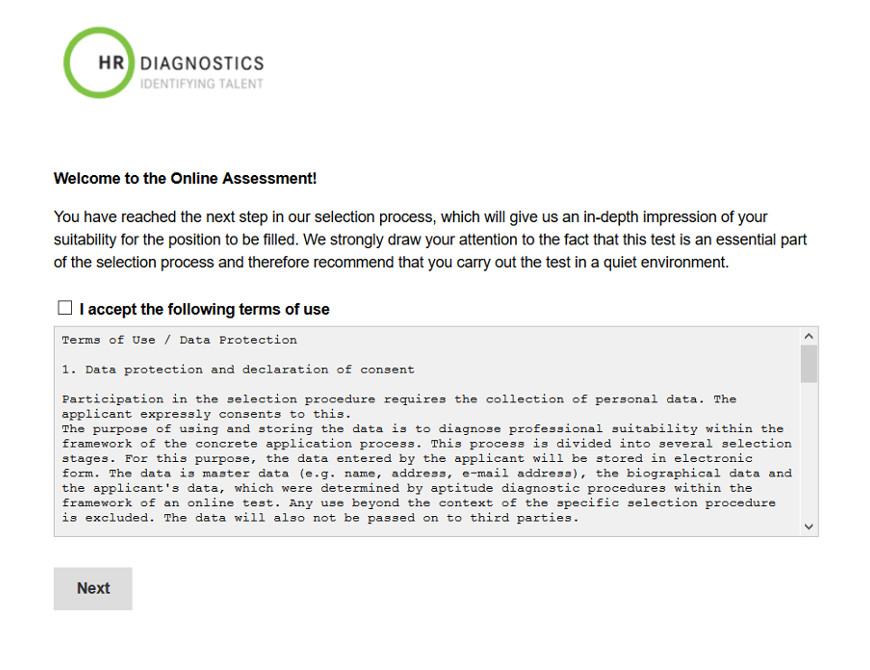 Test preparation: Before a candidate is able to start the test, s/he needs to accept the terms of use.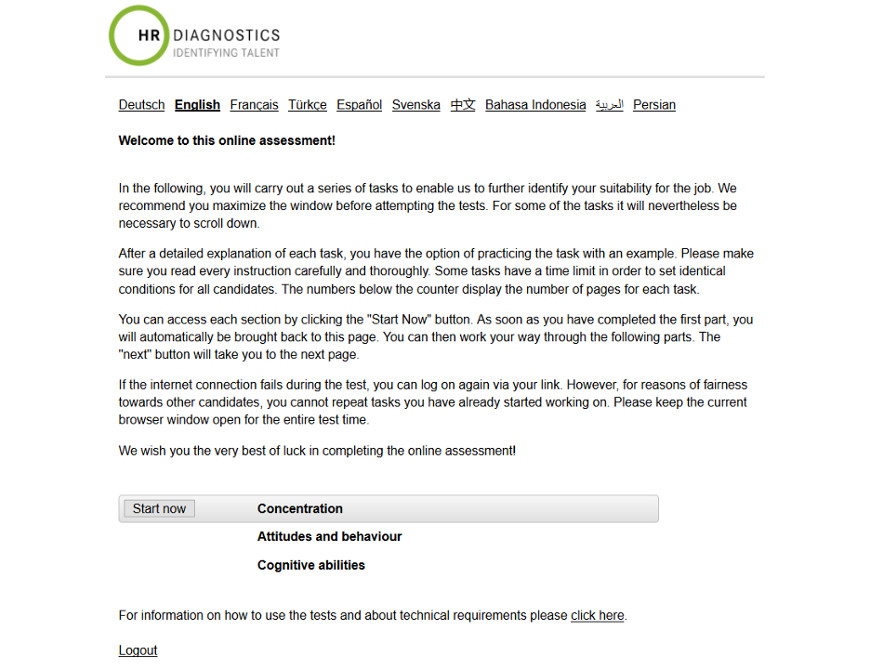 Starting the test: In a next step, the candidate gets a general introduction for the online test. In multilingual test procedures the user is able to choose one of the languages. The test starts with clicking on ''Start now".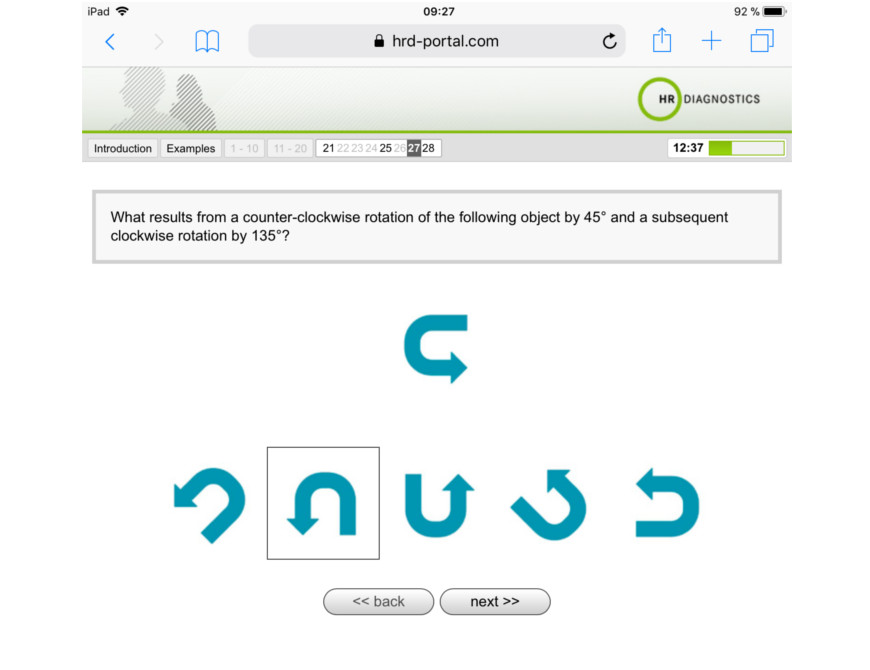 The candidate conducts the online test.
3. EVALUATING THE TEST RESULTS
In JOBMATCHER S you are able to view the results and compare them with each other. The individual results of each participant are always in relation to the results of all other candidates – and they constitute the comparison group for your project.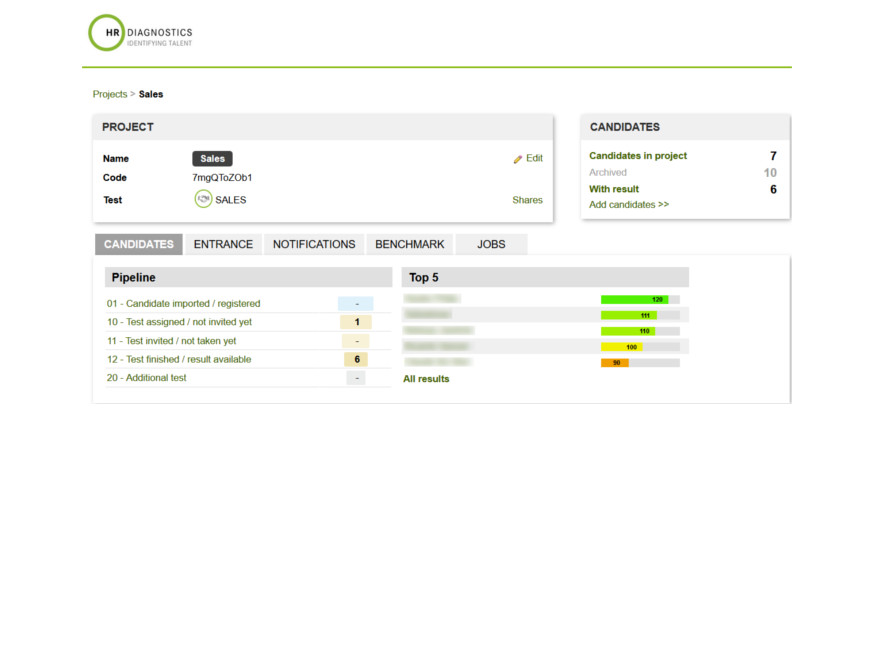 Process progress: Choosing the project readout of JOBMATCHER S you'll see the process pipeline on the left side: Every process level and latest status of your standardised recruitment process is visualised. All candidates who have conducted the test are on the same process level. With the pipeline you'll easily catch the progress of the recruitment process. On the right side you'll see the top 5 candidates, that already conducted the test. In a next step you can see all test results.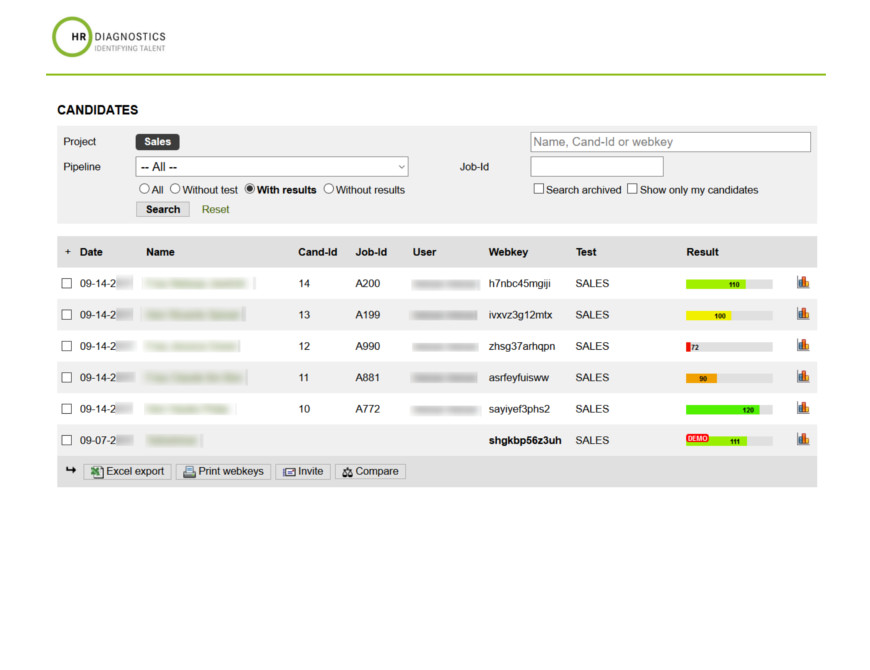 The total test result of all participants: For each process level you will get an overview of candidates with their accumulated test result. The colour coding system using green, yellow and red (traffic light analogy) depicts precisely whether a candidate scores above average, average or below average. You're also able to sort candidates by their test result, date or location, or by combining multiple filters to narrow down your search.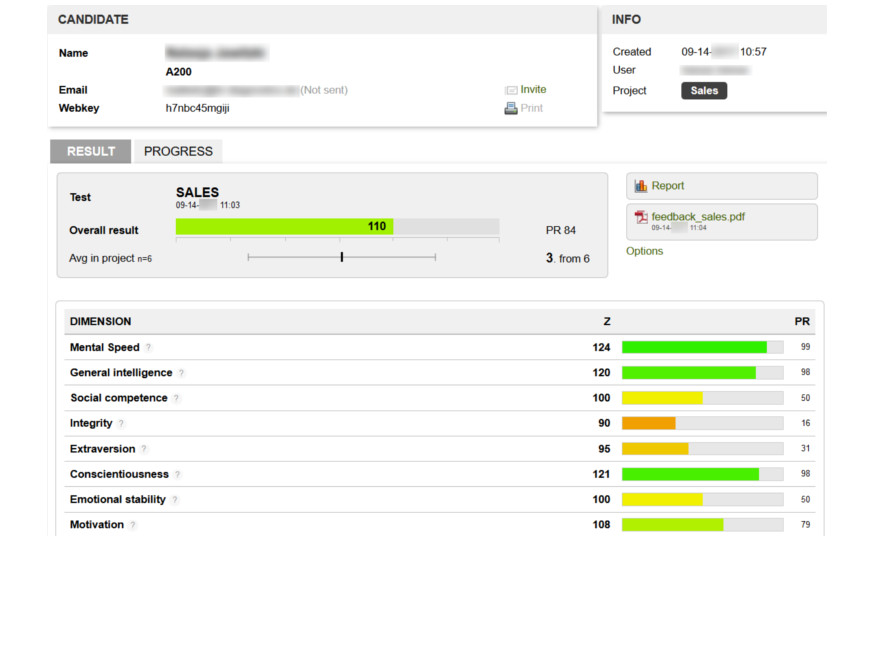 Detailed results of a candidate: If you want to have a closer look on a candidate, you'd click directly on the candidate's profile. A detailed listing of scores is shown including all examined dimensions and their sub-dimensions (components) of the online test: For example a candidate achieved an above average overall test result, but might be less strong in 'motivation to learn' than most other candidates.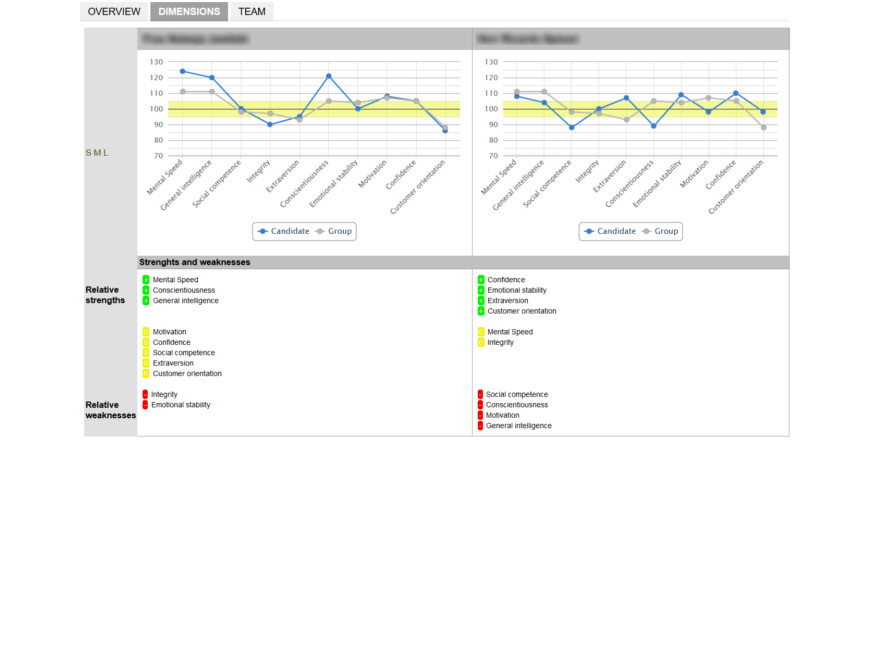 Comparing candidates:Switching your mode of examination from overview to details, you can compare multiple candidates for their overall test result as well as for single dimensions. In each colum one candidate is depicted with detailed results and compared to the reference group and standard distribution. JOBMATCHER S analyses automatically the strengths and weaknesses of your candidates and arranges them comprehensible as well as according to the colour coding system.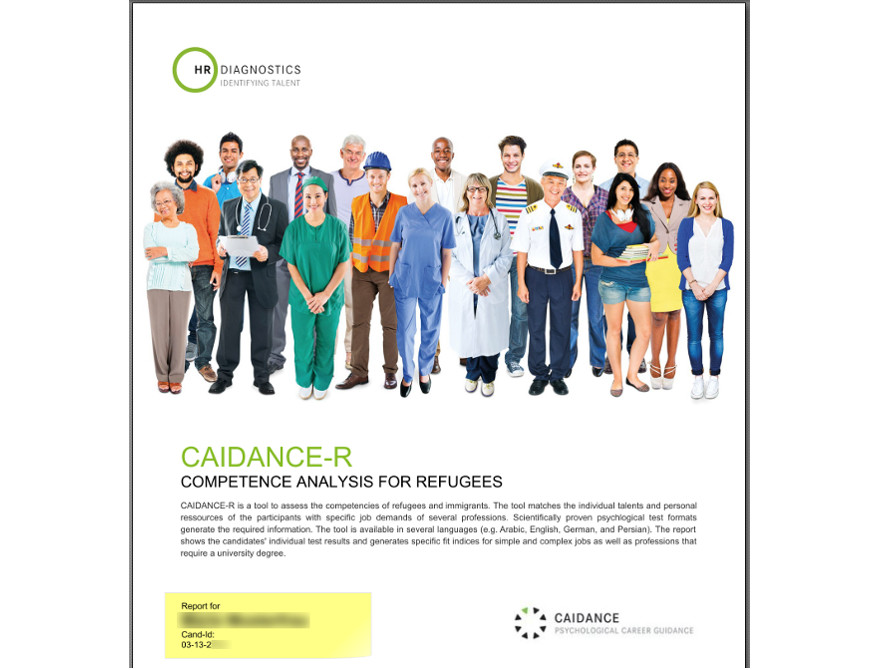 A written report of results: For standard test procedures JOBMATCHER S generates written reports for every candidate, that you can use as a solid ground for consecutive decisions. The report explains general aspects of every dimension in detail and puts the individual test result of the candidate into perspective. You are easily able to extract your candidate's strenghts and identify where difficulties might occur. For recruiters that are new to online assessments with scientific test procedures, the written report of results is a very useful addition to the graphical output of the JOBMATCHER.

On the basis of the test results you can now decide which of the candidates best suit your company and the positions to be filled.
---