CAIDANCE-R
Competence Analysis for Refugees
---
To successfully integrate refugees into the labour market you first need a reliable competence analysis. With CAIDANCE-R, HR Diagnostics provides the first psychological diagnosis specifically for refugees – in English, German, Arabic and Persian.
The vast majority of refugees in Europe has no proof of formal education and professional qualifications. According to the Federal Employment Agency only 9% of the almost 297,000 refugees registered as job seekers have an academic qualification (as of June 2016). 74% have not completed formal vocational training, and another 26% have no educational qualifications. The survey of professional qualifications is therefore usually based on information provided by the individuals themselves. For companies, job centres and employment agencies this information base is inadequate to employ refugees or to provide them with vocational advice. Individual competencies that are relevant for the labour market must therefore be ascertained diagnostically – in an interdisciplinary, valid and efficient way. CAIDANCE-R provides this type of competence analysis especially for refugees.
WHAT IS CAIDANCE-R AND WHAT IS IT FOR?
CAIDANCE is a word coined from of "Career" and "Guidance". The "R" stands for "Refugee" and thus refers to the specific version for refugees. CAIDANCE-R utilises tried-and-tested methods of occupational profiling and job matching. In occupational profiling a personal profile is created and matched to occupational profiles to find the right job for every individual based on a detailed diagnosis of their skills and interests. Job matching works in exactly the opposite way: On the basis of defined requirements for a vacant position, matching candidates are searched for.
THE PROCESS DEVELOPED FOR CAIDANCE-R
The competence analysis for refugees is performed with standardised psychological testing. In addition, specific non-verbal methods such as a graphical interests test were developed (see example below). Because language proficiency is an important professional qualification, linguistic methods are additionally used. The self-assessments of refugees in the linguistic field are often significantly different to the test results. This is why the objective determination of language skills that is integrated in CAIDANCE R is especially important. The participants themselves decide in which language they complete the test. There is currently a choice of English, German, Arabic and Persian (Farsi). Other language versions are in preparation.
THE PROCEEDINGS OF THE COMPETENCE ANALYSIS CAIDANCE-R
In an approximately two-hour psychological test, fugitives answer various questions that record their cognitive abilities, skills and interests. The competence analysis CAIDANCE-R provides an objective picture of the individual strengths and interests of the participants and compares them directly with the requirements of occupations and training programmes on the labour market. The results are summarised in a written report directly after the test is completed. The test results form the basis for individual career guidance and placement in training, qualification or employment.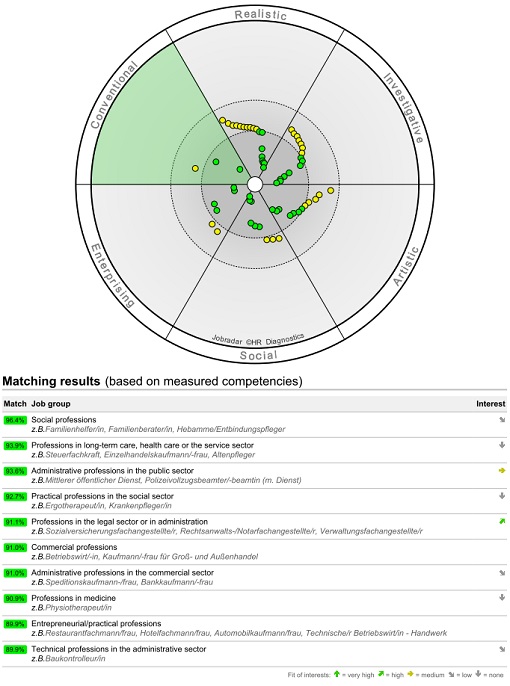 With CAIDANCE-R interdisciplinary professional skills, personal interests and language skills can be detected within about 2 hours with just one diagnosis. Individual analyses are possible as well as testings in group settings. The subsequent result report summarises all the measurement results and proposes specific occupational fields for the test participant.
TECHNICAL REQUIREMENTS
CAIDANCE-R is provided via a web-based test platform with SSL encryption. The hosting takes place in Germany. To complete the test, you only require an internet connection, a computer, or a tablet with a current browser (Chrome, Firefox or similar) and a quiet working environment.
APPLICATIONS AND PRACTICAL EXPERIENCE
CAIDANCE-R can be used wherever required for the analysis of interdisciplinary vocational skills. The results can form the basis for counselling sessions at employment agencies and job centres and are also suitable as a basis for placement officers and personnel staff in a company. The competence assessment can form the basis for inclusion in the entry qualification (EQ) for refugees. The CAIDANCE process can be completed not only by fugitives but also by unemployed Germans. In this way, projects can be realised in which both target groups are taken into consideration with equal fairness.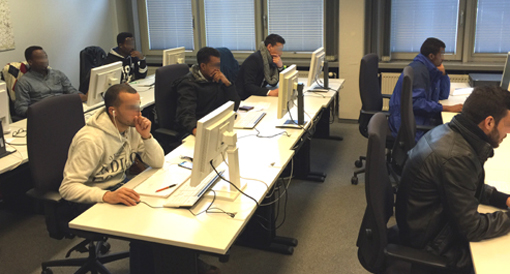 LITERATURE
Read more about this topic in specialised books on the professional integration of refugees and diversity management.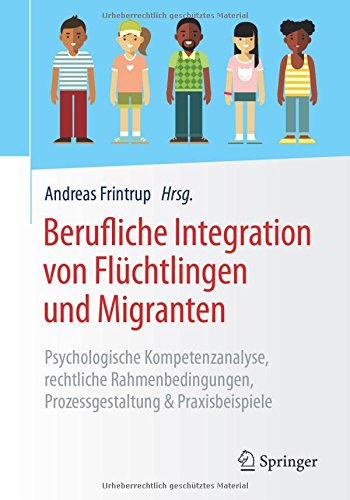 Other publications:
Frintrup, A. (Hrsg.) (2017). Berufliche Integration von Flüchtlingen und Migranten. Berlin: Springer. DOI: 10.1007/978-3-662-53942-2; ISBN: 978-3662539415.
Frintrup, A. & Flubacher, B. (2017). Personalpsychologische Grundlagen der Kompetenzanalyse für Geflüchtete und Migranten. In: Frintrup, A. (Hrsg.). Berufliche Integration von Flüchtlingen und Migranten. Berlin: Springer. S. 43-53.
Frintrup, A. & Spengler, M. (2017). Berufliche Orientierung für Flüchtlinge und Migranten: psychologische Kompetenzanalyse und Berufsprofiling mit CAIDANCE-R. In: Frintrup, A. (Hrsg.). Berufliche Integration von Flüchtlingen und Migranten. Berlin: Springer. S. 55-80.
Frintrup, A. & Spengler, M. (2017). Kompetenzanalyse für Flüchtlinge und Migranten CAIDANCE-R. In: Erpenbeck, J., von Rosenstiel, L., Grote, S & Sauter, W. (Hrsg.). Handbuch Kompetenzmessung. Stuttgart: Schäffer-Poeschel. S. 161-173.
Frintrup, A. & Spengler, M. (2016). Talente entdecken: Kompetenzanalyse für Flüchtlinge. Wirtschaftspsychologie aktuell 3/2016. S. 13-16.
Frintrup, A. & Spengler, M. (2016). Integrative Eignungsdiagnostik. In: Personalmagazin 08/2016. S. 16-18.
Frintrup, A. (2015). Talente finden – Chancen für Bewerber und Unternehmen durch Berufsprofiling. In: Koch, S., Kersting, M. & Weingarz, S. (Hrsg.). Auf die richtigen Mitarbeiter kommt es an – Personaldiagnostik und ihre Anwendung. S. 69-79.
Frintrup., A. & Flubacher, B. (2014). Diversity Management in der Personalauswahl. Berlin, Heidelberg: Springer.
Measures vocational skills in an objective, reliable and verifiable way.
Ensures fair results for different cultures
Can be processed in the individual's mother tongue
Takes into account both linguistic and non-linguistic elements
Covers a wide range of professions at different levels
Is uncomplicated to use with or without professional psychological training on the part of the user and generates easily understandable result reports
Ensures automatic and efficient implementation, results analysis and reporting
Only ties up a low level of staffing, space, and technical resources
Matches individual talents with the requirements of the labour market and specific vacancies
Creates directly usable results for career guidance and educational counselling
Problem-solving skills (nonverbal)
Processing speed (nonverbal)
Concentration performance (nonverbal)
Cognitive flexibility (nonverbal)
Mental arithmetic (nonverbal)
Professional interests (nonverbal)
Knowledge of German
Social competence
Customer orientation
Creativity
Integrity
Motivation
Conscientiousness
Emotional stability
Openness
Inquisitiveness
Self-confidence

Language versions: German, English, Arabic, Persian (more to follow)
Measuring ranges: Cognitive abilities, personality, professional interests, language skills in German
Technology: Web-based survey without local installations, mobile testing on tablets possible
Duration: Approximately 2.25 hours (excluding preparation)
Cost: Single implementation 48 € plus VAT. For larger volumes substantial rebates will be granted. Special rates for non-commercial users such as aid organisations, networks, job centres and adult education centres on request