MOBILE MMI®
The Multimodal Interview MMI® is now available on tablet computers
---
The Multimodal Interview MMI® is one of the most reliable forecast methods in personnel selection and development. Now, with the help of our system platform JOBMATCHER, you can carry out and evaluate a mobile MMI® more easily than ever before.
We can now offer the option of using tablet computers such as the iPad to conduct and automatically evaluate the mobile MMI®. You can now offer your candidates a contemporary input medium that has long become part of everyday life – with positive effects for your visibility as a company. You will also reduce possible errors that can occur during manual evaluation.
HOLD AND EVALUATE FLEXIBLE INTERVIEWS WITH TABLET COMPUTERS
The procedure is simple: all you need is a tablet computer with internet access. Once the main interviewer has logged into the system, they can start directly with the interview or generate access codes for any additional interviewers to also log into the interview.
For every page, a question including the corresponding response anchors is always shown. You can rate the responses of the interviewees simply by clicking on the analogous score. You are then directed to the next question. At the end of the conversation you will receive an overview of the evaluated answers togteher with the posed question. Here you have the option of retrieving individual questions and amending your vote.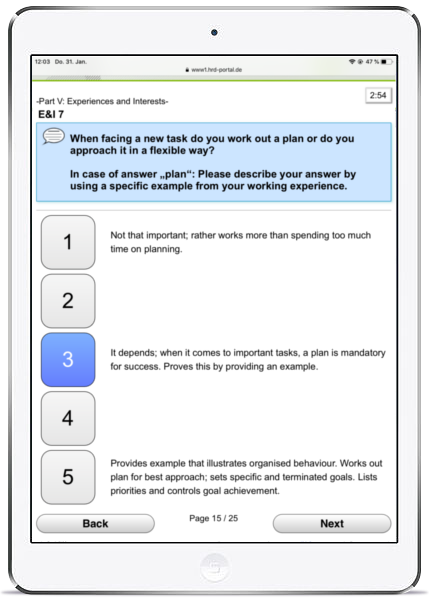 If the interview has been conducted by several interviewers, the results are calculated and you will be informed of any major discrepancies. You are able to once again access the relevant question in order to confer with the other interviewers to decide on the answer. You can then view the results in the system.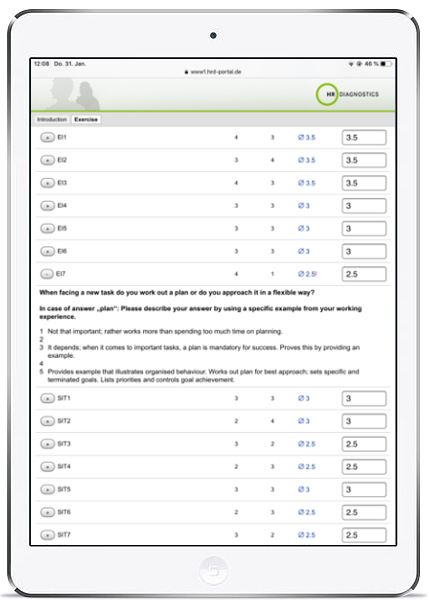 With this new technology you can now conduct psychological tests anywhere with access to Wi-Fi or a mobile connexion – in hotels, at trade fairs, and in seminar rooms without any computer equipment.
This not only saves you time, but also makes the Mobile MMI® an even more universal objective procedure – and a useful tool for modern recruitment marketing.
Objective interview procedure for the personnel selection

Tablet computers as an attractive input medium for recruiters and candidates
No matter when and where – your processes are fully flexible
Simple implementation and evaluation by a self-explanatory user interface