Unsere Testbatterie SALES
THE ONLINE TEST FOR YOUR FUTURE EMPLOYEES IN SALES AND CUSTOMER SERVICE
Our test battery SALES
Good salespeople and customer service staff ensure a long-term positive relationship with your customers and thus help in shaping your company's success. To help you finding the best candidates for sales and customer service in your company, we developed the test battery SALES. The pre-configured test examines all personality traits and skills that are critical to a successful employee in the field of sales. Candidates can take part in the test online enjoying the comfort of their own homes. You can view the results of all the candidates via a transparent traffic light system and thus enjoy quick and easy access to a reliable statement about the suitability of your applicants – ensuring that you are able to make the right decision.
The weighting of the individual dimensions in the test battery SALES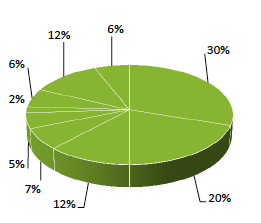 general intelligence (30%)
information processing speed (20%)
customer orientation (12%)
performance motivation (12%)
extraversion (7%)
social skills (6%)
emotional stability (6%)
confidence (5%)
conscientiousness(2%)
TARGET GROUP (EXAMPLE)
Positions in sales and all jobs involving regular contact with customers
---
DESCRIPTION OF OCCUPATION
Sales, customer service and customer support in all sectors
---
EDUCATION
No higher education required
SALES-MEASURED DIMENSIONS
GENERAL INTELLIGENCE
Deriving information from subject-related contexts; identifying and solving problems.
EXTRAVERSION
Sociability, self-confidence, optimism; pleasure in interacting with other people.
CUSTOMER ORIENTATION
The ability to establish and strengthen customer relationships and maintain good personal contact with customers; pleasure in dealing with different customers.
CONFIDENCE
A high degree of self-responsibility for one's professional activities; confidence in one's own abilities.
CONSCIENTIOUSNESS
Having high quality demands on one's own work performance and results; striving for precision and accuracy.
EMOTIONAL STABILITY
Stress resistance and psychological resilience; being able to take criticism and professional handling of conflicts and failures.
PERFORMANCE MOTIVATION
Willingness to deliver high performance; dedication and commitment to the professional tasks and goals.
SOCIAL COMPETENCE
Achieving professional goals with socially acceptable means; showing fairness and empathy towards others.
INFORMATION PROCESSING SPEED
Ability to process simple information quickly and correctly.
RELATED ARTICLES AND SPECIALIST CONTRIBUTIONS FROM OUR MAGAZINE