Unsere Testbatterie ENTRY
THE ONLINE TEST FOR YOUR YOUNG POTENTIALS
Our test battery ENTRY
Inexperienced career starters do not usually have any professional qualifications when applying at your company, and this is why personal characteristics and cognitive abilities are so important for a successful start for your young potentials. Our pre-configured test battery ENTRY precisely analyses these skills in your applicants for apprenticeships, trainee positions and internships. The online test can be carried out by any applicant from home. The test results use a simple traffic light system to show you quickly and clearly which candidates are high potentials for your company.
The weighting of the individual dimension in the test battery ENTRY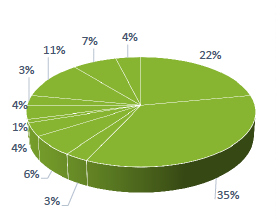 problem-solving behaviour (35%)
information processing speed (22%)
openness (11%)
performance motivation (11%)
integrity (7%)
conscientiousness (6%)
social skills (4%)
emotional stability (4%)
confidence (3%)
extraversion (3 %)
compatibility (1%)
TARGET GROUP (EXAMPLE)
Trainees, interns
---
DESCRIPTION OF OCCUPATION
Career starters without experience in specific professional fields
---
EDUCATION
No higher education required
ENTRY-MEASURED DIMENSIONS
INFORMATION PROCESSING SPEED
Ability to process simple information quickly and correctly.
EXTRAVERSION
Sociability, self-confidence, optimism; pleasure in interacting with other people.
PROBLEM-SOLVING BEHAVIOUR
Ability and pleasure in recognising and solving complex problems.
CONFIDENCE
A high degree of self-responsibility for one's professional activities; confidence in one's own abilities.
COMPATIBILITY
Having a peaceful disposition and being willing to compromise; being approachable.
EMOTIONAL STABILITY
Stress resistance and psychological resilience; being able to take criticism and professional handling of conflicts and failures.
CONSCIENTIOUSNESS
Having high quality demands on one's own work performance and results; striving for precision and accuracy.
OPENNESS
Openness to new experiences, cultures and knowledge; pleasure in originality and ingenuity.
PERFORMANCE MOTIVATION
Willingness to deliver high performance; dedication and commitment to the professional tasks and goals.
SOCIAL COMPETENCE
Achieving professional goals with socially acceptable means; showing fairness and empathy towards others.
INTEGRITY
Honest and ethical behaviour for the benefit of the organisation; fairness, correctness and legality of actions.
RELATED ARTICLES AND SPECIALIST CONTRIBUTIONS FROM OUR MAGAZINE