Unsere Testbatterie BLUE COLLAR
THE ONLINE TEST FOR YOUR FUTURE SKILLED WORKERS
Our test battery BLUE COLLAR
Good skilled workers and reliable unskilled labour are the motor of long-term success in industrial enterprises and commercial and crafts companies because they ensure that the production processes run smoothly. To help you in finding quickly and safely the best skilled workers for your company, we have developed the test battery BLUE COLLAR. This aptitude test for industrial workers, warehousemen and craftsmen is scientifically profoundly and specifically examines the psychological characteristics and cognitive abilities that are relevant for your vacancies. The candidates complete the aptitude test online in the comfort of their own homes; you will then receive a transparent result with a traffic light system to show you at a glance which candidates are suitable for your vacancies.
The weighting of the individual dimensions in the test battery BLUE COLLAR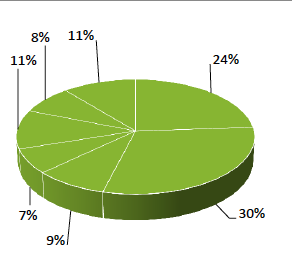 information processing speed (30%)
concentration (24%)
integrity (11%)
motivation (11%)
conscientiousness (9%)
emotional Stability (8%)
expertise (7%)
TARGET GROUPS (EXAMPLES)
Skilled workers and unskilled labour in industry, production, commerce, crafts, agriculture and logistics
---
DESCRIPTION OF OCCUPATION
Production staff, production workers, maintenance engineers, installers, specialists in warehouse logistics, commercial and technical professions
---
EDUCATION
No higher education required
BLUE COLLAR-MEASURED DIMENSIONS
CONCENTRATION
The ability to focus one's attention on one subject over an extended period of time, not being distracted and to be able to easily return to the task after interruptions.
INFORMATION PROCESSING SPEED
The ability to process simple information quickly and correctly.
CONSCIENTIOUSNESS
Having high quality demands on one's own work performance and results; striving for precision and accuracy.
SOCIAL COMPETENCE
Achieving professional goals with socially acceptable means; fairness and empathy towards others.
INTEGRITY
Honest and ethical behaviour for the benefit of the organisation; fairness, correctness and legality of actions.
EMOTIONAL STABILITY
Stress resistance and psychological resilience; being able to take criticism and professional handling of conflicts and failures.
PERFORMANCE MOTIVATION
Willingness to deliver high performance; dedication and commitment to the professional tasks and goals.
RELATED ARTICLES AND SPECIALIST CONTRIBUTIONS FROM OUR MAGAZINE