THE ONLINE-TEST FOR YOUR FUTURE OFFICE AND ADMINISTRATIVE STAFF
Our test battery ADMINISTRATION
Our pre-configured test battery ADMINISTRATION is an efficient and uncomplicated aptitude test for all candidates who apply to commercial and administrative jobs in your company. Based on the requirements for office and administrative staff, the test examines individual dimensions (characteristics) that are weighted according to their relevance to the positions to be filled. Your candidates can carry out the online test at home. The results of the test battery ADMINISTRATION are easy to understand and interprete: A traffic light system is used to provide a quick overview of essential information for the future career success of an individual candidate and you can view the individual results of the dimensions tested and compare candidates with each other whenever it is necessary. The test battery ADMINISTRATION helps you make the right decision quickly about your future employees in office and administration.
The weighting of the individual dimensions in the test battery Administration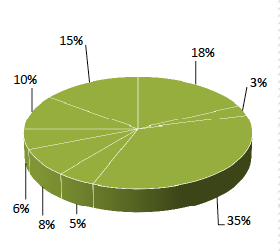 general intelligence (35%)
concentration (18%)
performance motivation (15%)
conscientiousness (10%)
integrity (8%)
emotional stability (6%)
social skills (5%)
compatibility (3%)
TARGET GROUP (EXAMPLE)
Skilled workers in administration
---
DESCRIPTION OF OCCUPATION
Commercial professions in office and administration
---
EDUCATION
Minimum: secondary school certificate
ADMINISTRATION-MEASURED DIMENSIONS
CONCENTRATION
The ability to focus one's attention on one subject over an extended period of time, not being distracted and to be able to easily return to the task after interruptions.
GENERAL INTELLIGENCE
Deriving information from subject-related contexts; identifying and solving problems.
INTEGRITY
Honest and ethical behaviour for the benefit of the organisation; fairness, correctness and legality of actions.
CONSCIENTIOUSNESS
Having high quality demands on one's own work performance and results; striving for precision and accuracy.
COMPATIBILITY
Having a peaceful disposition and being willing to compromise; being approachable.
EMOTIONAL STABILITY
Stress resistance and psychological resilience; being able to take criticism and professional handling of conflicts and failures.
PERFORMANCE MOTIVATION
Willingness to deliver high performance; dedication and commitment to the professional tasks and goals.
RELATED ARTICLES AND SPECIALIST CONTRIBUTIONS FROM OUR MAGAZINE